Planet Fellowship (en)
Friday, 24 October 2014
DanielPocock.com - fsfe | 23:53, Friday, 24 October 2014
In 2013, Debian participated in both rounds of the GNOME Outreach Program for Women (OPW). The first round was run in conjunction with GSoC and the second round was a standalone program.
The publicity around these programs and the strength of the Google and Debian brands attracted a range of female candidates, many of whom were shortlisted by mentors after passing their coding tests and satisfying us that they had the capability to complete a project successfully. As there are only a limited number of places for GSoC and limited funding for OPW, only a subset of these capable candidates were actually selected. The second round of OPW, for example, was only able to select two women.
Google to the rescue
Many of the women applying for the second round of OPW in 2013 were also students eligible for GSoC 2014. Debian was lucky to have over twenty places funded for GSoC 2014 and those women who had started preparing project plans for OPW and getting to know the Debian community were in a strong position to be considered for GSoC.
Chandrika Parimoo, who applied to Debian for the first round of OPW in 2013, was selected by the Ganglia project for one of five GSoC slots. Chandrika made contributions to PyNag and the ganglia-nagios-bridge.
Juliana Louback, who applied to Debian during the second round of OPW in 2013, was selected for one of Debian's GSoC 2014 slots working on the Debian WebRTC portal. The portal is built using JSCommunicator, a generic HTML5 softphone designed to be integrated in other web sites, portal frameworks and CMS systems.
Juliana has been particularly enthusiastic with her work and after completing the core requirements of her project, I suggested she explore just what is involved in embedding JSCommunicator into another open source application. By co-incidence, the xTuple development team had decided to dedicate the month of August to open source engagement, running a program called haxTuple. Juliana had originally applied to OPW with an interest in financial software and so this appeared to be a great opportunity for her to broaden her experience and engagement with the open source community.
Despite having no prior experience with ERP/CRM software, Juliana set about developing a plugin/extension for the new xTuple web frontend. She has published the extension in Github and written a detailed blog about her experience with the xTuple extension API.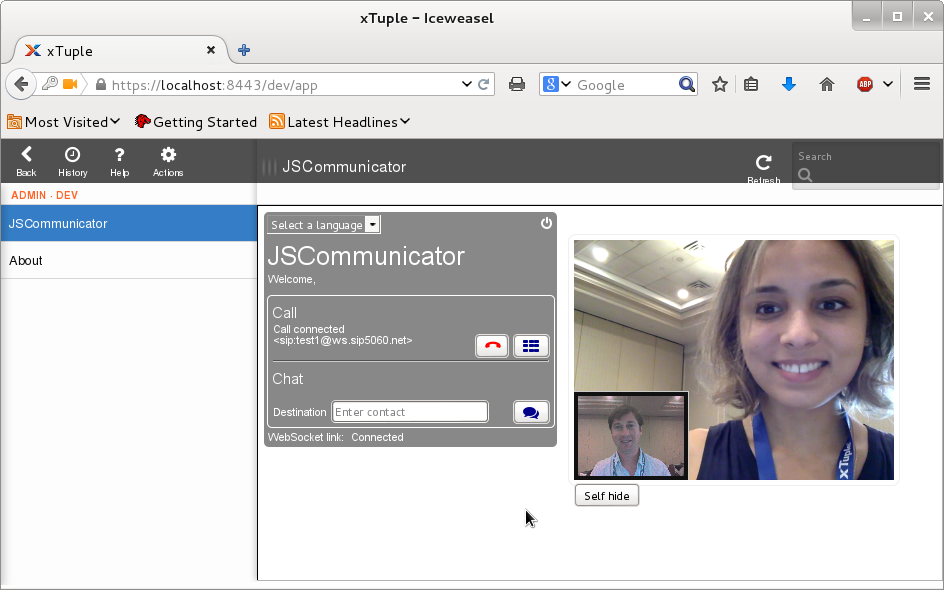 Participation in DebConf14
Juliana attended DebConf14 in Portland and gave a presentation of her work on the Debian RTC portal. Many more people were able to try the portal for the first time thanks to her participation in DebConf. The video of the GSoC students at DebConf14 is available here.
Continuing with open source beyond GSoC
Although GSoC finished in August, xTuple invited Juliana and I to attend their annual xTupleCon in Norfolk, Virginia. Google went the extra mile and helped Juliana to get there and she gave a live demonstration of the xTuple extension she had created. This effort has simultaneously raised the profile of Debian, open source and open standards (SIP and WebRTC) in front of a wider audience of professional developers and business users.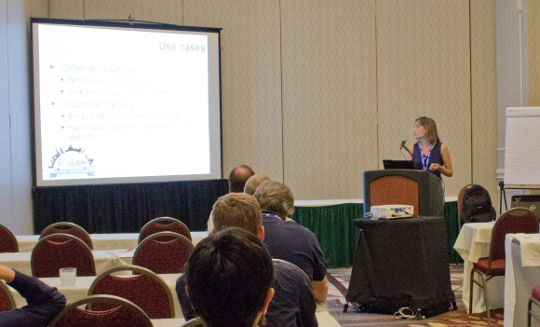 It started with OPW
The key point to emphasize is that Juliana's work in GSoC was actually made possible by Debian's decision to participate in and promote Outreach Program for Women in 2013.
I've previously attended DebConf myself to help more developers become familiar with free and open RTC technology. I wasn't able to get there this year but thanks to the way GSoC and OPW are expanding our community, Juliana was there to help out.
Max's weblog » English | 10:39, Friday, 24 October 2014
I recently saw that the Free Software Foundation Europe is offering a new and very interesting internship position. That's a great opportunity for every student interested in Free Software and political activism — and for me to write about my internship I completed from October 2013 until end of March 2014. Here's a report I wrote some time ago:
Starting from October 2013 I was able to work 6 months as an intern for the Free Software Foundation Europe in Berlin. This was an internship required by my bachelor degree course at the University of Konstanz (Germany) where I study Politics and Public Administration. Some years before my internship I already was an FSFE Fellow and then decided to apply there.

My daily tasks contained monitoring and moderation of the various mailing lists and social network accounts. There were also various technical jobs to do: Updating and creating single websites, sending out newsletters, fixing smaller bugs on our pages and so on.

The bigger part in my internship was political work. In Germany, various ISPs want to hinder end consumers to freely choose a router because they only want officially supported ones. Such policy comes with serious consequences for security, free competition, trust in technology, and compatibility. My tasks contained analysing regulation drafts, writing statements for public hearings and coordination with other activists. We summarized the issue and our work on https://fsfe.org/activities/routers

After the parliamentary elections in Germany 2013 I analysed the Grand Coalition's agreement to identify possible positive and negative effects on Free Software. I also was able to visit several politicians in the German Bundestag to talk with them about Free Software and upcoming important tasks we wanted to work on.

Besides I helped a lot organising our various campaigns like "Document Freedom Day" and "I love Free Software". For many of these political tasks and campaigns I wrote press releases and public statements.

During my internship I learned a lot about the structure and work in a multinational organisation and how to collaborate and talk with different people around the world. Another plus is the know-how I aquired by helping planning the various campaigns and analyses. When I was in Brussels and Chemnitz to help at FSFE's booths during conferences I also learned very much about how to talk with people of all kinds and how to carry ideas and convictions to others.

I will never regret applying for and completing the internship at FSFE. There were so many theoretical and practical things no study course can teach. Being able to work at the interface between communities, companies and politics is something every interested student should be granted.

I want to thank everybody who enabled the FSFE to offer these internships. Organisations like the Free Software Foundation Europe are important to bring equality and freedom to our society and these internships allow students to get an insight into this very interesting area of activity.
This internship was a very general one so I was able to work in many different areas of FSFE's activity. The offered internship is mostly about Document Freedom Day, FSFE's largest campaign in which I also invested a lot of time. I'm quite sure that this position is also very interesting — and very important as well! So if you want to take responsibility and want to learn much about collaboration, worldwide activism and public relations, go ahead and apply for this internship!
If you are interested in this internship but you have some questions left, please feel free to ask me anything.