Planet Fellowship (en)
Sunday, 19 May 2013
Inductive Bias | 20:31, Sunday, 19 May 2013
For slides see also: Speakerdeck: High performance networking on the JVM

Norman started his talk clarifying what he means by high scale: Anything above
1000 concurrent connections in his talk are considered high scale, anything
below 100 concurrent connections is fine to be handled with threads and blocking
IO. Before tuning anything, make sure to measure if you have any problem at
all: Readability should always go before optimisation.

He gave a few pointers as to where to look for optimisations: Get started by
studying the socket options - TCP-NO-DELAY as well as the send and receive
buffer sizes are most interesting. When under GC pressure (check the GC locks
to figure out if you are) make sure to minimise allocation and deallocation of
objects. In order to do that consider making objects static and final where
possible. Make sure to use CMS or G1 for garbage collection in order to
maximise throughput. Size areas in the JVM heap according to your access
patterns. The goal should always be to minimise the chance of running into a
stop the world garbage collection.

When it comes to using buffers you have the choice of using direct or heap
buffers. While the former are expensive to create, the latter come with the
cost of being zero'ed out. Often people start buffer pooling, potentially
initialising the pool in a lazy manner. In order to avoid memory fragmentation
in the Java heap, it can be a good idea to create the buffer at startup time
and re-use it later on.

In particular when parsing structured messages like they are common in
protocols it usually makes sense to use gathering writes and scattering reads
to minimise the number of system calls for reading and writing. Also try to
buffer more if you want to minimise system calls. Use slice and duplicate to
create views on your buffers to avoid mem copies. Use a file channel when
copying files without modifications.

Make sure you do not block - think of DNS servers being unavailable or slow as
an example.

As a parting note, make sure to define and document your threading model. It
may ease development to know that some objects will always only be used in a
single threaded context. It usually helps to reduce context switches as well as
may ease development to know that some objects will always only be used in a
single threaded context. It usually helps to reduce context switches as well as
keeping data in the same thread to avoid having to use synchronisation and the
use of volatile.

Also make a conscious decision about which protocol you would like to use for
transport - in addition to tcp there's also udp, udt, sctp. Use pipelining in
order to parallelise.
Saturday, 18 May 2013
Inductive Bias | 20:29, Saturday, 18 May 2013

After breakfast was over the first day started with a talk by Bernd on the
Hadoop ecosystem. He did a good job selecting the most important and
interesting projects related to storing data in HDFS and processing it with Map
Reduce. After the usual "what is Hadoop", "what does the general architecture
look like", "what will change with YARN" Bernd gave a nice overview of which
publications each of the relevant projects rely on:


HDFS is mainly based on the paper on GFS.



Map Reduce comes with it's own publication.



The big table paper mainly inspired Cassandra (to some extend), HBase,
Accumulo and Hypertable.



Protocol Buffers inspired Avro and Thrift, and is available as free
software itself.



Dremel (the storage side of things) inspired Parquet.



The query language side of Dremel inspired Drill and Impala.



Power Drill might inspire Drill.



Pregel (a graph database) inspired Giraph.



Percolator provided some inspiration to HBase.



Dynamo by Amazon kicked of Cassandra and others.



Chubby inspired Zookeeper, both are based on Paxos.



On top of Map Reduce today there are tons of higher level languages,
starting with Sawzall inside of Google, continuing with Pig and Hive at Apache
we are now left with added languages like Cascading, Cascalog, Scalding and
many more.



There are many other interesting publications (Megastore, Spanner, F1 to
name just a few) for which there is no free implementation yet. In addition
with Storm, Hana and Haystack there are implementations lacking canonical
publications.




After this really broad clarification of names and terms used, Bernd went into
some more detail on how Zookeeper is being used for defining the namenode in
Hadoop 2, how high availablility and federation works for namenodes. In
addition he gave a clear explanation of how block reports work on cluster
bootup. The remainder of the talk was reserved for giving an intro to HBase,
Giraph and Drill.
Friday, 17 May 2013
anna.morris's blog | 19:42, Friday, 17 May 2013
I bought a new hard drive, 3tb, to use inside my pc for data only (not an OS) – a bit like a massive thumb-drive. I put it in my machine, and, as it was a 3tb drive, made a gpt (GUID) partition and formatted it in exp4. This all went fine, however, when I tried to put data on the drive, I couldn't. I kept getting errors about the drive being owned by root.
I looked around on-line and found several people with the same trouble, but none of their solutions worked., either at all, or some step involved did not work in fedora/in my case (most of the guides were on Ubuntu sites). Eventually I went onto the fedora IRC. Below is the solution i got (WARNING – DO NOT DO THIS ON A DISK WITH AN OPERATING SYSTEM ON IT – BE SURE!!)
1) Make sure your drive is mounted. If you click on your files you should be able to see inside the drive and you should see a little eject symbol too.

2) open a command line and write
sudo chown -R
don't hit return yet, you need to put some info in now. The info pattern is like this
youruser:youruser (or yourgroup, if your primary group has a different name; 'id' will show this) /path/to/mounted/filesystem
Its the same information you can see in the black box on  the image above, but you can copy and paste it from here: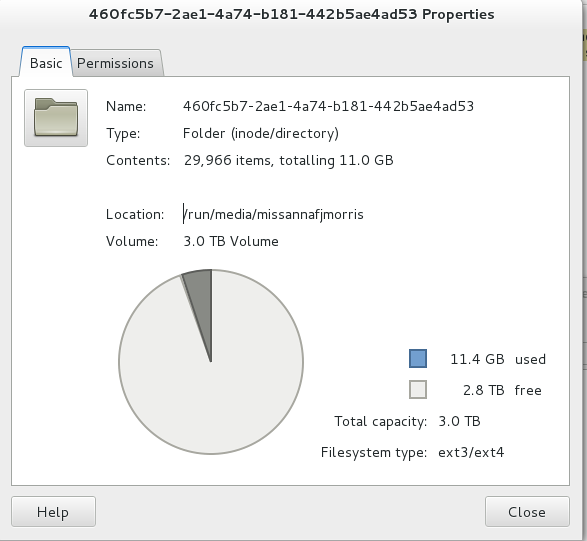 Select the part that says "location" – in my case it is /run/media/missannafjmorris and copy it (control+c or right click copy)
Go back to your command line and press control+shift+v (or right click and select paste) and then type forward slash. Don't hit return yet.
Go back to the window about and select and copy the info after name, in my case a long number string. Paste it into your command line. The while thing should look like this:

Once you have written the command and checked to make sure it is correct, you can hit enter. The problem should now be solved!Your terminal will just look like its ready for the next command., but you will be able to use your disk as you wish becuase it now belongs you you – and not root


Thursday, 16 May 2013
Inductive Bias | 20:27, Thursday, 16 May 2013

About a month ago I attended the first European Hadoop Summit, organised by
Hortonworks in Amsterdam. The two day conference brought together both vendors
and users of Apache Hadoop for talks, exhibition and after conference beer
drinking.

Russel Jurney kindly asked me to chair the Hadoop applied track during
Apache Con EU. As a result I had a good excuse to attend the event. Overall
there were at least three times as many submissions than could reasonably be
accepted. Accordingly accepting proposals was pretty hard.

Though some of the Apache community aspect was missing at Hadoop summit it was
interesting nevertheless to see who is active in this space both as users as
well as vendors.

If you check out the talks on Youtube make sure to not miss the two sessions by
Ted Dunning as well as the talk on handling logging data by Twitter.
DanielPocock.com | 07:16, Thursday, 16 May 2013
Last year at DebConf12 and the Paris mini-DebConf I mentioned some of the sophisticated techniques that the likes of Microsoft and Facebook are using to monitor their customers.
So when Skype was busted spying on the content of chat messages, it was no surprise for many people in the Debian community.
People are already rushing to find alternatives like XMPP and Jitsi. Debian 7 has been released just in time, with powerful features like TURN support that finally allow users to make free calls and chats with seamless NAT traversal. Sadly, Debian's built-in VoIP/RTC client, Empathy, only uses Google's TURN servers and not native Debian servers, but hopefully a solution will come soon, but it is easy enough to install Jitsi instead and configure it to use any of the free TURN server software on Debian.
It should be emphasized that Skype does not just spy on URLs in chat - it has simply been possible to detect this form of spying by detecting when the URL is accessed. Microsoft has taken out various patents for secretive monitoring of Internet phone calls and the analysis of speech patterns to detect both the content and emotions during a conversation. This allows them to get a very thorough analysis of the state of mind of every user at almost every moment and fine-tune the type of advertising and branding that is delivered to that person through conventional means and also through biased `news' reporting and other means.
Wednesday, 15 May 2013
Inductive Bias | 20:26, Wednesday, 15 May 2013

In his talk on Spdy Mathew Steele explained how he implemented the spdy protocol
as an Apache httpd module - working around most of the safety measures and
design decisions in the current httpd version. Essentially to get httpd to
support the protocol all you need now is mod_spdy plus a modified version of
mod_ssl.

The keynote on the last day was given by the Puppet founder. Some interesting
points to take away from that:


Though hard in the beginning (and half way through, and after years) it
is important to learn giving up control: It usually is much more productive and
leads to better results to encourage people to do something than to be
restrictive about it. A single developer only has so much bandwidth - by
farming tasks out to others - and giving them full control - you substantially
increase your throughput without having to put in more energy.



Be transparent - it's ok to have commercial goals with your project. Just
make sure that the community knows about it and is not surprised to learn about
it.



Be nice - not many succeed at this, not many are truely able to ignore
religion (vi vs. emacs). This also means to be welcoming to newbies, to hustle
at conferences, to engage the community as opposed to announcing changes.




Overall good advise for those starting or working on an OSS project and seeking
to increase visibility and reach.
Tuesday, 14 May 2013
mkesper's blog » English | 20:30, Tuesday, 14 May 2013
My colleague and me had got the task of creating an intranet site "like Facebook". OK, so we checked alternatives and installed a site with WordPress and BuddyPress.
Guess what, after we showed the result to our boss, friendships had to be removed, groups had to be removed etc. etc.
After realising we had disabled virtually every BuddyPress feature and after struggling with getting some sort of rights system into the site, we finally recognized WordPress was not the right base for our site and went looking for alternatives again. Imagine we had settled on a proprietary platform, we'd been stuck!
Then I discovered Drupal. "Oh look, they've got something like a structure. Oh, wow, permissions are in core modules. Cool!"
Drupal just is much more structured and generalized than WordPress. The downside is it takes you longer to figure out how things work. Maybe I should have looked into "Understanding Drupal" earlier but I just "had no time for that".
Community support is super helpful in irc or managing issues. Translation process is really cool, making it possible to edit translations in-site and (after a little configuration) also giving back to the Drupal community.
So, if you want to hack together a simple page in short time, take WordPress, but if you need a little bit more structure, I'd recommend Drupal!
Side note: As a Python fan I also tried https://www.django-cms.org/ but alas, it's very hard to install compared to the two other systems. And if users won't get your system installed, they won't use it! And no, it isn't helpful to first give you a toy server and then let you figure out how you turn it into a production system via several unconnected help documents.
Inductive Bias | 20:25, Tuesday, 14 May 2013

Have you ever measured the general behaviour of your Hadoop jobs? Have you
sized your cluster accordingly? Do you know whether your work load really is IO
bound or CPU bound? Legend has it noone expecpt Allen Wittenauer over at
Linked.In, formerly Y! ever did this analysis for his clusters.

Steve Watt gave a pitch for actually going out into your datacenter measuring
what is going on there and adjusting the deployment accordingly: In small
clusters it may make sense to rely on raided disks instead of additional
storage nodes to guarantee "replication levels". When going out to vendors to
buy hardware don't rely on paper calculations only: Standard servers in Hadoop
clusters are 1 or 2u. This is quite unlike beefy boxes being sold otherwise.

Figure out what reference architecture is being used by partners, run your
standard workloads, adjust the configuration. If you want to run the 10TB
Terrasort to benchmark your hardware and system configuration. Make sure to
capture data during all your runs - have Ganglia or SAR, watch out for
intersting behaviour in io rates, cpu utilisation, network traffic. The goal is
to get the cpu busy, not wait for network or disk.

After the instrumentation and trial run look for over- and underprovisionings,
adjust, leather, rinse, repeat.

Also make sure to talk to the datacenter people: There are floor space, power
and cooling constraints to keep in mind. Don't let the whole datacenter go down
because your cpu intensive job is drawing more power than the DC was designed
for. Ther are also power constraints per floor tile due to cooling issues -
those should dictate the design.

Take a close look at the disks you deploy: SATA vs. SAS can make a 40%
performance difference at a 20% cost difference. Also the number of cores per
machines dictates the number of disks to spread the likelyhood of random read
access. As a rule of thumb - in a 2U machine today there should be at least
twelve large form factor disks.

When it comes to controllers he goal should be to get a dedicated lane to disc,
safe one controller if price is an issue. Trade off compute power against power
consumption.

Designing your network keep in mind that one switch going down means that one
rack will be gone. This may be a non-issue in a Y! size cluster, in your
smaller scale world it might be worth the money investing in a second switch
though: Having 20 nodes go black isn't a lot of fun if you cannot farm out the
work and re-replication to other nodes and racks. Also make sure to have enough
ports in rack switches for the machines you are planning to provision.

Avoid playing the ops whake-a-mole game by having one large cluster in the
organisation than many different ones where possible. Multi-tenancy in Hadoop is
still pre-mature though.

If you want to play with future deployments - watch out for HP currently
packing 270 servers where today are just two via system on a chip designs.
Monday, 13 May 2013
Inductive Bias | 20:23, Monday, 13 May 2013

Monitoring - a task generally neglected - or over done - during development.
But still vital enough to wake up people from well earned sleep at night when
done wrong. Rainer Jung provided some valuable insights on how to monitor Apache httpd and Tomcat.

Of course failure detection, alarms and notifications are all part of good
monitoring. However so is avoidance of false positives and metric collection,
visualisation, and collection in advance to help with capacity planning and
uncover irregular behaviour.

In general the standard pieces being monitored are load, cache utilisation,
memory, garbage collection and response times. What we do not see from all that
are times spent waiting for the backend, looping in code, blocked threads.

When it comes to monitoring Java - JMX is pretty much the standard choice. Data
is grouped in management beans (MBeans). Each Java process has default beans,
on top there are beans provided by Tomcat, on top there may be application
specific ones.

For remote access, there are Java clients that know the protocol - the server
must be configured though to accept their connection. Keep in mind to open the
firewall in between as well if there is any. Well known clients include
JVisualVM (nice for interactive inspection), jmxterm as a command line client.

The only issue: Most MBeans encode source code structure, where what you really
need is change rates. In general those are easy to infer though.

On the server side for Tomcat there is the JMXProxy in Tomcat manager that
exposes MBeans. In addition there is Jolohia (including JSon serialisation) or
the option to roll your own.

So what kind of information is in MBeans:


OS - load, process cpu time, physical memory, global OS level
stats. As an example: Here deviding cpu time by time geves you the average cpu
concurrency.




Runtime MBean gives uptime.



Threading MBean gives information on count, max available threads etc



Class Loading MBean should get stable unless you are using dynamic
languaes or have enabled class unloading for jsps in Tomcat.



Compliation contains HotSpot compiler information.



Memory contains information on all regions thrown in one pot. If you need
more fine grained information look out for the Memory Pool and GC MBeans.




As for Tomcat specific things:


Threadpool (for each connector) has information on size, number of busy
threads.



GlobalRequestProc has request counts, processing times, max time bytes
received/sent, error count (those that Tomcat notices that is).



RequestProcessor exists once per thread, it shows if a request is
currently running and for how long. Nice to see if there are long running
requests.



DataSource provides information on Tomcat provided database connections.




Per Webapp there are a couple of more MBeans:


ManagerMBean has information on session management - e.g. session
counter since start, login rate, active sessions, expired sessions, max active
sinse restart sessions (here a restart is possible), number of rejected
sessions, average alive time, processing time it took to clean up sessions,
create and required rate for last 100 sessions



ServletMBean contains request count, accumulated processing time.



JspMBean (together with activated loading/unloading policy) has
information on unload and reload stats and provides the max number of loaded
jsps.




For httpd the goals with monitoring are pretty similar. The only difference is
the protocol used - in this case provided by the status module. As an
alternative use the scoreboard connections.

You will find information on


restart time, uptime



serverload



total number of accesses and traffic



idle workers and number of requests currently processed



cpu usage - though that is only accurate when all children are stopped
which in production isn't particularly likely.




Lines that indicate what threads do contain waitinng, request read, send reply
- more information is documented online.

When monitoring make sure to monitor not only production but also your stress
tests to make meaningful comparisons.
Sunday, 12 May 2013
Inductive Bias | 20:22, Sunday, 12 May 2013

During the security talk at Apache Con a topic commonly glossed over by
developers was covered in quite some detail: With software being developed that
is being deployed rather widely online (over 50% of all websites are powered
by the Apache webserver) natually security issues are of large concern.

Currently there are eight trustworthy people on the foundation-wide security
response team, subscribed to security@apache.org. The team was started by
William A. Rowe when he found a volnarability in httpd. The general work mode -
as opposed to the otherwise "all things open" way of doing things at Apache -
is to keep the issues found private until fixed and publicise widely
afterwards.

So when running Apache software on your servers - how do you learn about
security issues? There is no such thing as a priority list for specific
vendors. The only way to get an inside scoop is to join the respective
project's PMC list - that is to get active yourself.

So what is being found? 90% of all security issues are found be security
researches. The remaining 10% are usually published accidentially - e.g. by
users submitting the issue through the regular public bug tracker of the
respective project.

In Tomcat currently no issues was disclosed w/o letting the project know. httpd
still is the prime target - even of security researchers who are in favour of
a full disclosure policy - the PMC cannot do a lot here other than fix issues
quickly (usually within 24 hours).

As a general rule of thumb: Keep your average release cycle time in mind - how
long will it take to get fixes into people's hands? Communicate transparently
which version will get security fixes - and which won't.

As for static analysis tools - many of those are written for web apps and as
such not very helpful for a container. What is highly dangerous in a web app
may just be the thing the container has to do to provide features to web apps.
As for Tomcat, they have made good experiences with Findbugs - most others have
too many false positives.

When dealing with a volnarability yourself, try to get guidance from the
security team on what is actually a security volnarability - though the final
decision is with the project.

Dealing with the tradeoff of working in private vs. exposing users affected by
the volnarability to attacks is up to the PMC. Some work in public but call the
actual fix a refactoring or cleanup. Given enough coding skills on the attacker
side this of course will not help too much as sort of reverse engineering what
is being fixed by the patches is still possible. On the other hand doing
everything in private on a separate branch isn't public development anymore.

After this general introduction Mark gave a good overview of the good, the bad
and the ugly way of handling security issues in Tomcat. For his slides
(including an anecdote of what according to the timing and topic looks like it
was highly related to the 2011 Java Hash Collision talk at Chaos Communication
Congress).
Saturday, 11 May 2013
Inductive Bias | 20:20, Saturday, 11 May 2013

In her talk on documentation on OSS Noirin gave a great wrap up of the topic of
what documentation to create for a project and how to go about that task.

One way to think about documentation is to keep in mind that it fulfills
different tasks: There is conceptual, procedural and task-reference
documentation. When starting to analyse your docs you may first want to debug
the way it fails to help its users: "I can't read my mail" really could mean
"My computer is under water".

A good way to find awesome documentation can be to check out Stackoverflow
questions on your project, blog posts and training articles. Users today really
are searching instead of browsing docs. So where to find documentation actually
is starting to matter less. What does matter though is that those pages with
relevant information are written in a way that makes it easy to find them
through search engines: Provide a decent title, stable URLs, reasonable tags
and descriptions. By the way, both infra and docs people are happy to talk to
*good* SEO guys.

In terms of where to keep documentation:

For conceptual docs that need regular review it's probably best to keep them in
version control. For task documentation steps should be easy to upgrade once
they fail for users. Make sure to accept bug reports in any form - be it on
Facebook, Twitter or in your issue tracker.

When writing good documentation always keep your audience in mind: If you don't
have a specific one, pitch one. Don't try to cater for everyone - if your docs
are too simplistic or too complex for others, link out to further material.
Understand their level of understanding. Understand what they will do after
reading the docs.

On a general level always include an about section, a system overview, a
description of when to read the doc, how to achieve the goal, provide
examples, provide a trouble shooting section and provide further information
links. Write breadth first - details are hard to fill in without a bigger
picture. Complete the overview section last. Call out context and
pre-requesites explicitly, don't make your audience do more than they really
need to do. Reserve the details for a later document.

In general the most important and most general stuff as well as the basics
should come first. Mention the number of steps to be taken early. When it comes
to providing details: The more you provide, the more important the reader will
deem that part.
anna.morris's blog | 14:18, Saturday, 11 May 2013
as a follow up to the recent "Experiment: There may be confidential content in your search results. Please do not share outside Google." incident which I blogged about here, I searched for more info using Google. Found a few odd little things…
Some* questions about it on Yahoo have been removed.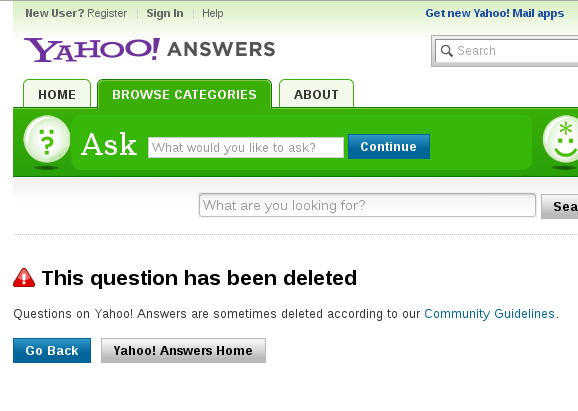 I wonder which part of their Community Guidelines forbid discussing GoogleBugs?
Perhaps stranger still, looks like some user replies have been deleted and some redirects have been made too.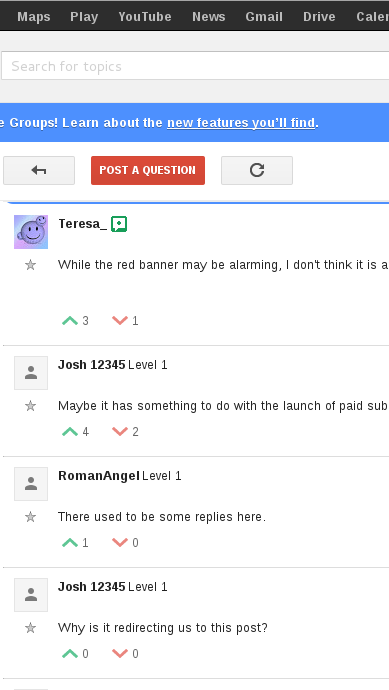 A little later in this thread, some one named  epontius said that other threads had been redirected to this single thread because "This one is being monitored by staff… so the other threads concerning this issue have been redirected to this one to keep things in one place."
Given that Google recently proclaimed search results should be impartial (and so should not (necessarily) be included in the "right to be forgotten" protection), I really trust that they wouldn't mess about with links and users questions for something so trivial as a technical hiccup….
jus'sayin…
* (one or more, hard to tell: several links in search results but all leading one URL)
Friday, 10 May 2013
Inductive Bias | 20:19, Friday, 10 May 2013

In her talk on delegation Deb Nicholson touched upon a really important topic in
OSS: Your project may live longer than you are willing to support it yourself.

The first important point about delegation is to delegate - and to not wait
until you have to do it. Soon you will realise that mentoring and delegation
actually is a way to multiply your resources.

In order to delegate people to delegate to are needed. To find those it can be
helpful to understand what motivates people to work in general as well as on
open source in particular: Sure, fixing a given problem and working on great
software projects may be part of it. As important though is recognition
individually and in groups of people.

Keeping that in mind, "Thanking" is actually a license to print free money in
the open source world. Do it in a verbose manner to be believable, do it in
public and in a way that makes your contributors feel a little bit of glory.

Another way to lead people in is to help out socially: Facilitate connections,
suggest connections, introduce people. Based on the diversity of the project
you are working on you may be in a way larger network and have access to much
more corporations and communities than any peer who is not active. Use that
potential.

Also when leading OSS projects keep in eye on people being rude: Your project
should be accessible to facilitate participation.

In case of questions treat them as a welcome opportunity to pull a new
community member in: Answer quickly, answer on your list, delegate to middle
seniors to pull them in. Have training missions for people who want to get
started and don't know your tooling yet. Have prepared documents to provide
links to in case questions occur.

In Apache we tend to argue people should not fall victim of volunteeritis.
Another way to put that is to make sure to avoid the licked cookie syndrom:
When people volunteer to do a task and never re-appear that task is tainted
until explicitly marked as "not taken" later on. One way to automate that is
to have a fixed deadline after which tasks are automatically marked as free to
take and tackle by anyone.


When it comes to the question of When to write documentation: There really is
no point in time that should stop you from contributing docs - all the way from
just above getting started level (writing the getting started docs for those
following you) up to the "I'm an awesome super-hacker" mode for those trying
to hack on similar areas.

Especially when delegating to newbies make sure to set the right expectations:
How long is it going to take to fix an issue, what is the task complexity, tell
them who is going to be involved, who is there to help out in case of road
blocks.

In general make sure to be a role model for the behaviour you want in your
project: Ask questions yourself, step back when your have taken on too much,
appreciate people stepping back.

Understand the motivation of your new comers - try to talk to them one on one
to understand their motivation and help to align work on the project with their
life goal. When starting to delegate, start with tasks that seem to small to
delegate at all to get new people familiar with the process - and to get
yourself familiar with the feeling of giving up control. Usually you will need
to pull tasks apart that before were done by one person. Don't look for a
person replacement - instead look for separate tasks and how people can best
perform these.

Make visible and clear what you need: Is it code or reviews? Documentation or
translations, UX helpers? Incentivise what you really need - have code sprints,
gamify the process of creating better docs, put the logo creation under a
challenge.

All of this is great if you have only people who all contribute in a very
positive way. What if there is someone who's contributions are actually
detrimental to the project? How to deal with bad people? They may not even do
so intentionally… One option is to find a task that better suits their
skills. Another might be to find another project for them that better fits
their way of communicating. Talk to the person in question, address head on
what is going on. Talking around or avoiding that conversation usually only
delays and enlarges your problem. One simple but effective strategy can be to
tell people what you would like them to do in order to help them find out that
this is not what they want to do - that they are not the right people for you
and should find a better place.

More on this can be found in material like "How assholes are killing your
project" as well as the "Poisonous people talk" and the book "Producing
open source software".


On the how of dealing with bad people make sure to criticise privately first,
chack in a backchannel of other committers for their opinion - otherwise you
might be lonely very quickly. Keep to criticising the bahaviour instead of the
person itself. Most people really do not want to be a jerk.
Thursday, 09 May 2013
Inductive Bias | 20:13, Thursday, 09 May 2013

All three ApacheCon keynotes were focussed around the general theme of open
source communities. The first on given by Theo had very good advise to the
engineer not only striving to work on open source software but become an
excellent software developer:


Be loyal to the problem instead of to the code: You shouldn't be
addicted to any particular programming language or framework and refuse to work
and get familiar with others. Avoid high specialisation and seek cross
fertilisation. Instead of addiction to your tooling you should seek to
diversify your toolset to use the best for your current problem.



Work towards becoming a generalist: Understand your stack top to bottom -
starting with your code, potentially passing the VM it runs in up down to the
hardware layer. Do the same to requirements you are exposed to: Being 1s old
may be just good enough to be "always current" when thinking of a news
serving web site. Try to understand the real problem that underpins a certain
technical requirement that is being brought up to you. This deep understanding
of how your system works can make the difference in fixing a production issue
in three days instead of twelve weeks.




The last point is particularly interesting for those aiming to write scalable
code: Software and frameworks today are intended to make development easier -
with high probability they will break when running at the edge.

What is unique about the ASF is the great opportunity to meet people with
experience in many different technologies. In addition there is an unparalleled
level of trust in a community as diverse as the ASF. One open question that
remains is how to leverage this potential successfully within the foundation.
anna.morris's blog | 19:51, Thursday, 09 May 2013
What are Google up to?
Was looking for database tutorials on YouTube when this appeared:
I Googled the text and found it was practically vial, people asking about it with posts every few mins: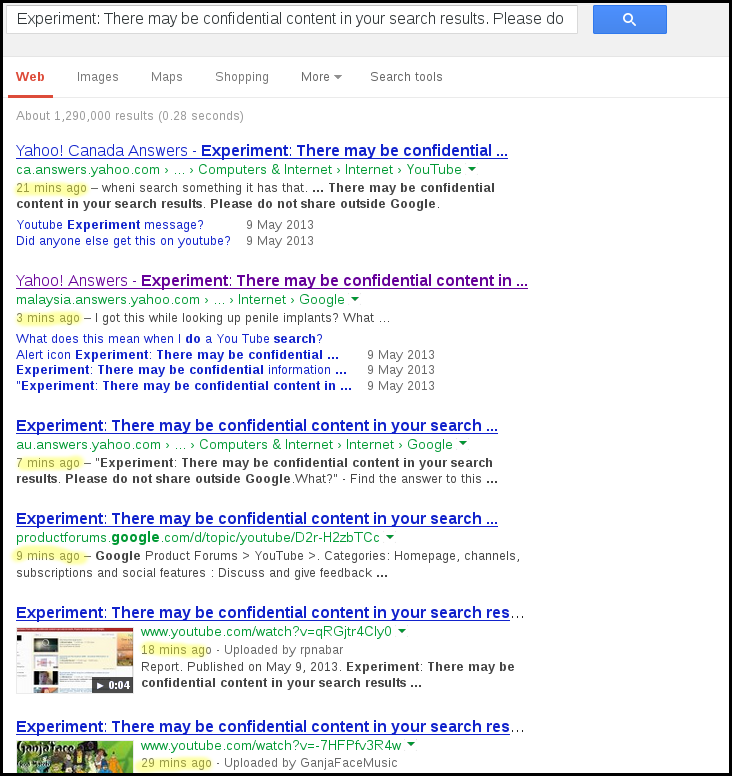 What are they up too? Could this relate to privacy issues? Are they toying with us? Do we disobey and share all of the things we find "outside of Google"
What does "outside of Google mean?" – on another search Engine? Off-line?
Twitter seems to be intrested in discussing the issue…
Tweets about "Experiment: There may be confidential content in your search results. Please do not share outside Google."
//
emergency exit | 19:21, Thursday, 09 May 2013
While spring and early summer are claiming Berlin now and most folks are out enjoying the change, I thought I'd post a late winter picture.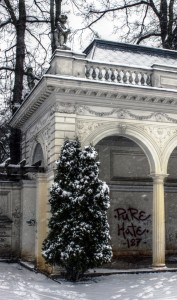 People who know me, know that I am more of a winter person, so I usually have pictures of winter or fall around when the sun shines too bright outside. This picture was taken about two months ago in Pankow, Berlin. It is an HDR rendering made of three individual shots using Luminance HDR and the Mantiuk06 algorithm. Color and Contrast were corrected with digikam.
I like the way the different elements in the picture contrast each other… the classical architecture and the graffiti; the coziness of the christmas-like tree and the cold wind… it somehow doesn't want to fit together and still does.
Wednesday, 08 May 2013
Inductive Bias | 23:41, Wednesday, 08 May 2013
This evening I joined the group over at Immobilienscout 24 for today's Hadoop Get Together. David Obermann had invited Dr. Falk-Florian Henrich from CeleraOne to talk about their real-time analytics on live data streams.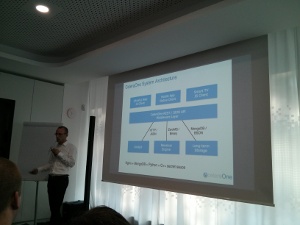 Their system is being used by the New York Times Springer's Die Welt for traffic analysis. The goal is to identify recurring users that might be willing to pay for the content they want to read. The trade-off here is to keep readers interested long enough to make them pay in the end, instead of scaring them away with a restrictive pay wall which would immediately lead to way less ad revenues.
Currently CeleraOne's system is based on a combination of MongoDB for persistent storage, ZeroMQ for communicating with the revenue engine and http/json for connecting to the controlling web frontend. The live traffic analysis is all done in RAM, while long term storage ends up in MongoDB.
The second speaker was Michael Hausenblas from MapR. He spends most of his time contributing to Apache Drill - an open source implementation of Google's Dremel.
Being an Apache project Drill is developed in an open, meritocratic way - contributors come from various different backgrounds. Currently Drill is in its early stages of development: They have a logical plan, a reference interpreter, a basic SQL parser. There is a demo application. As data backends they support HBase.
For most of the implementation they are trying to re-use existing libraries, e.g. for the columnar storage Drill is looking into either using Twitter's Parquet or Hive ORC file format.
In terms of contributing to the project: There is no need to be a rockstar programmer to make valuable contributions to Apache Drill: Use cases, documentation, test data are all valuable and appreciated by the project.
For more information check out the slide deck (this is an older version - this nights edition most likely soon to be published):
<script async="async" class="speakerdeck-embed" data-id="43402fe08d640130efa412313926fc13" data-ratio="1.33333333333333" src="http://speakerdeck.com/assets/embed.js"></script>
If you missed today's event make sure to get enlisted in the Hadoop Get Together Xing Group so next time you get a notification.
One thing to note though: When registering for the event - please make sure to free your ticket if you cannot make it. I had a few requests from people who would have loved to attend today who didn't get a ticket but would most likely have fit into the room.
Inductive Bias | 20:10, Wednesday, 08 May 2013
ApacheCon is the "User Conference of the Apache Software Foundation". What
should that mean? If you are going to Apache Con you have the chance of meeting
committers of your favourite projects as well as members of the foundation
itself. Though there are a lot of talks that are interesting from a technical
point of view the goal really is to turn you into an active member of the
foundation yourself. This is true for the North American version even more than
for the European edition.

Though why should you as a general user of Apache software be interested in
attending then? Pieter Hintjens put it quite nicely in an interview on his
latest ZeroMQ book with O'Reilly:

<iframe allowfullscreen="allowfullscreen" frameborder="0" height="315" src="http://www.youtube.com/embed/vOQEBSq7kOE" width="560"></iframe>


If you are using free software in particular in commercial setups you really do
want to know how the project is governed and what it takes to get active and
involved yourself. What would it take to move the project into a direction that
fits your business needs? How do you make sure features you need are actually
being added to the project instead of useless stuff?

ApacheCon is the conference to find out how Apache projects work internally,
the place to be to meet active people in person and put faces to names. Lots of
community building events focus on getting newbies in touch with long term
contributors.
Agile Workers Software » FLOSS | 14:22, Wednesday, 08 May 2013
Recently, we announced the incorporation of Endocode AG. With its team of five founders, Endocode offers software engineering services around Open Source technologies, as well as consultations with businesses in collaboration with Open Source communities. This sounds very similar to what Agile Workers Software offered. In fact, Endocode is the second incarnation of the vision we strove for with Agile Workers – to create a partnership of experts, of knowledge workers, offering advice and services as a coherent team. In this post, I am going to explain the advantages of starting over, and how it will benefit both our clients and the partners who are working on the company.
Our clients will benefit from the extension of our leadership team. Endocode is lead by four directors with a combined experience of multiple decades of working on Open Source software engineering and connections into various Open Source communities. With this move, we will become more approachable and extend the expertise represented by the board to new fields. We see one of our biggest strengths as our ability to understand and solve software engineering problems that span a multitude of technical domains. We believe in the synergies that stem from combining the diverse experience of our partners. To further grow this potential, Endocode will continue to invite outstanding new partners solely based on their motivation and general engineering prowess. Because "if all you have is a hammer, everything looks like a nail", there will be no specific technological focus on certain programming languages, tool kits or platforms. The only common denominator is a passion for and a focus on Open Source technologies.
Endocode's partners and employees will benefit from the new corporate setup (a shareholders company, as opposed to a limited liability company) because it makes it easier to implement a partnership scheme. For anybody who joins Endocode, there will be the opportunity to become a shareholder, and eventually a partner. This in turn will make the company more attractive to self-determined and self-motivated individuals, who are often exactly the experts we are looking for. In this regard, Endocode is more similar to a law or architecture firm than to the typical software services shop. There will be more information about Endocode's partnership model in a future post over on the Endocode site.
Agile Workers will conclude and finish ongoing projects, and Endocode will gradually take over from there. For our clients, the transition should be seamless and smooth. If there are any worries or concerns, please contact us immediately. If you are a client looking to contract our professional services, please contact either Agile Workers or Endocode, and you will talk to the same team. If you are a software engineer and you feel like Endocode would be a great place to work, we are hiring.
Tuesday, 07 May 2013
anna.morris's blog | 22:48, Tuesday, 07 May 2013
I manages to miss spell a place name about 300 times today (not exaggerating) on my wordpres blog. I managed to find and replace all the mistakes in the post using a Firefox add-on but then I realized the mistake was also in all my photo captions. Mass photo management is a nightmare in WordPress anyway, I was pretty strung out, however, this add on was a real lifesaver. It took me a while to workout that it was case sensitive (yes I know it says it in the instructions, but I was half asleep and really stressed) so all in all, a good job! Would have taken several hours manually and it only took about 30 seconds once I had found and figured out the app!
anna.morris's blog | 22:41, Tuesday, 07 May 2013
This is really useful info http://ask.libreoffice.org/en/question/6652/how-to-recover-former-version-of-document/ – it didn't solve my problem today, however, I will certainly be glad of this information in the future!
anna.morris's blog | 12:55, Tuesday, 07 May 2013
I have a ton of photos from my holiday that I want to put on-line. My new camera is great but the pictures are very high resolution and much to big to go online or email. This has caused my problems before and so, as I am "On Holiday", I thought I would have a look at batch conversion.
Usually, when I ask about this I am told to use the command line, so I took a look at that first. Seems that ImageMagick is a highly recommended tool, however, I soon ran into some problems. I will stress first though that I could see, from the documentation why people more adept at the command line would like this program: it gives you a very high level of control without the need for a huge and slow interface…. however, I personally found it just to hard to use.
It didn't help that the manual, rather than simply telling you what to do, seems to tell you what you USED to need to do compared to what you need to do now… and why this is the case. Perhaps there was some kind of community issue in development which has lead to this "needing" to be explained…. or perhaps all manuals are like that and I just read so few of them….
Anyway, I just wanted to change 100 odd photos from about 5000px by whatever to more like 1000px by whatever… I am sure I would have figured out how to do it with commands eventually, but it would have been a long day. I found, however, that ImageMagick has a GUI, a nice graphical interface for people who enjoy the powerful software, but not the frustrations of learning command line. It is called Converseen (and YES, that is an annoying picture of a lady their sourceforge page, can't they just use a neutral picture like an apple or something?! Anyway… moving on).
I found Converseen very intuitive, and I didn't need a manual at all. I chose the pictures I wanted to change, and I found it easy to input what I wanted to be done with them. The only thing I wasn't sure about was what the result of "Scale Image" would be – if I chose scale image by 20% would that make my photo 20% smaller or make it 20% of the current size? It tuned out to be the latter, so an image that was 5000px wide scaled with a setting of 20% came out at 1000px wide. All in one go, I also renamed the files from image_001 to image_001_small and saved them into a new folder which I could make/select from a pop up window as I would expect (rather than trying to input a file path as sometimes occurs in this type of program). The whole process was very fast,  first opening the program to having my photos as I needed took me less than 5 minuets. I would brand that a success and I recommend this software.
It's just a shame that Command Line access to ImageMagick is still beyond my comfort level (and that I have found yet another manual that completely fails help users of my level).
Planet Fellowship (en):
RSS 2.0 |
Atom |
FOAF |
/127.0.0.?
Agile Workers Software » FLOSS
Albrechts Blog
Alessandro at FSFE » English
Alexandre De Dommelin
Alina Mierlus - Building the Freedom » English
Being Fellow #952 of FSFE » English
Bernhard's Blog
Bits from the Basement
Björn Schießle's Weblog » English
Blog of Martin Husovec
Blog » English
Bobulate
Brian Gough's Notes
Carlo Piana :: Law is Freedom ::
Ciarán's free software notes
Colors of Noise - Entries tagged planetfsfe
Communicating freely
Computer Floss
Creative Destruction & Me » FLOSS
DanielPocock.com
Don't Panic
ENOWITTYNAME
Escape to freedom
FSFE Fellowship Vienna » English
Fellowship Interviews
Fellowship News
Frederik Gladhorn (fregl) » FSFE
Free Software & Digital Rights Noosphere
Free as LIBRE
Free speech is better than free beer » English
Free, Easy and Others
Freedom Blog » Free Software
From Out There
GLOG » Free Software
Gianf:) » free software
Graeme's notes » Page not found
Green Eggs and Ham
Handhelds, Linux and Heroes
Heiki "Repentinus" Ojasild » English
HennR's FSFE blog
Henri Bergius
Hook's Humble Homepage
I love it here » English
Inductive Bias
Intuitionistically Uncertain » Technology
Jelle Hermsen » English
Jens Lechtenbörger » English
Karsten on Free Software
Leena Simon» english
Losca
Marcus Möller » FSFE
Mario Fux
Mark P. Lindhout's Flamepit
Myriam's blog
Mäh?
Nice blog
Nicolas Jean's FSFE blog » English
Paul Boddie's Free Software-related blog
Pressreview
Saint's Log
Sam Tuke's blog
Seravo
Software Livre com um toque feminino
Supporting Free Software » English
The trunk
Thomas Koch - free software
Thomas Løcke Being Incoherent
Thoughts in Parentheses » Free Software
Tonnerre Lombard
Torsten's FSFE blog » english
Weblog
Weblog
Weblog
Weblog
Weblog
Weblog
Weblog
Werner's own blurbs
a fellowship ahead
agger's Free Software blog
anna.morris's blog
ayers's blog
blog
blog.padowi.se » English
drdanzs blog » freesoftware
emergency exit
free software blog
freedom bits
gollo's blog » English
hesa's Weblog » Free Software
julia.e.klein's blog
marc0s on Free Software
mina86.com
mkesper's blog » English
nikos.roussos » libre
pb's blog
pichel's blog
rieper|blog » en
stargrave's blog
things i made
tolld's blog
wkossen's blog
yahuxo's blog
you can't do that online anymore » English