Planet Fellowship (en)
Monday, 26 January 2015
Karsten on Free Software | 12:01, Monday, 26 January 2015
By October this year, FSFE will have a new leadership team. When my current (third) term as the organisation's president comes to an end this autumn, I will hand over the role of president, and move on to new horizons.
FSFE is in a great place right now. We're making a bigger impact than ever before. We sharpened and refocused our mission during 2014, and developed a new strategy focused on empowering users. We are reaching more people than ever before, and have very good traction with policymakers. People value what we do: Thanks to our Fellows and donors, FSFE's finances look better than they ever have.
FSFE's fierce independence and focus on the long term make it a very special place to work. My current job is a wonderful vantage point from which to explore the world. But from time to time, it's good to change one's perspective and seek out new challenges.
Come October, Matthias Kirschner will take over as president, pending confirmation by FSFE's General Assembly. Having worked very tightly with him for the past years, I can confidently say that he is the single best person to take FSFE forward into the future. He knows the organisation inside out, takes to policy work like a duck to water, and is very good at getting people to work together. He will make an excellent president.
Before then, in March, we're taking on board an executive director. This will be a someone who has been with FSFE from the start: Jonas Öberg, one of FSFE's founding members and a former vice-president. Jonas has considerable experience in managing Free Software-related projects and organisations. This includes building up the FSCons conference in its original form, acting as Creative Commons' coordinator for Europe, his latest venture Commons Machinery and and the Elog.io project. We couldn't have found a better person for this role.
So, what are you doing next?
Professionally, I'm going to look for a role where I can make a difference, and bring to bear the skills I've learned running FSFE. I'd love to continue working with digital freedoms, strategy, and policy. This could be at the helm of another NGO, or as part of a larger organisation or company. If you would like to discuss potential opportunities, I'll be delighted to hear from you.
With regard to FSFE, I will remain part of the General Assembly, and will give my full support to Matthias and Jonas as they drive the organisation forward. Wherever my work will take me, FSFE and the Free Software community will always remain close to my heart.
/var/log/fsfe/flx » planet-en | 11:49, Monday, 26 January 2015
Dear FSFE Fellow,
For those of you reading this post because you're trying to decide who to vote for in the upcoming Fellowship Election (which starts 20 February), I've tried to provide a little bit of information about myself and my candidature.
About me
I'm FSFE's Deputy Coordinator Netherlands. I've been a Fellow since 2008. You can read about some of the things I've done for FSFE last year in my blog post about FSFE Netherlands in 2014.
I also volunteer at (Dutch digital rights organisation) Bits of Freedom's Privacy Café (and other CryptoParties).
I'm currently studying Computer Science & Cyber Security at Radboud University in the Netherlands.
I'm interested in Privacy, Security, Free Software, Freedom and (Digital) Civil Rights; as well as Mathematics, Computer Science and Software Development. I also enjoy teaching and speaking.
My goals
I'm highly motivated to do more for the FSFE. I'd like to:
continue the Dutch team's transborder activities with Fellows from Germany and Belgium;
be more active on team@;
and improve communication & cooperation with (Dutch) Fellows, other organisations & communities, and the general public.
Being a Fellowship representative would provide me with a great opportunity to do this (and more).
Who to vote for?
I think Max & Nicolas would be great Fellowship representatives as well and we seem to share many of the same goals.
So I'm not going to tell you why you should elect me instead of one of them — although I certainly hope you'll vote for me.
Instead, I want to tell you that no matter who wins the election, I intend to work together with Max & Nicolas — and all of you — to make FSFE even better.
---
You've already found your way to my blog, but you can also follow me on twitter. And if you'd like to get in touch with me, feel free to send me an email.
See you @ FOSDEM!
- Felix
/var/log/fsfe/flx » planet-en | 09:49, Monday, 26 January 2015
Now that 2015 is in full swing, here's a look back at what happened in the Netherlands in 2014; and a peek forward at what's to come in 2015.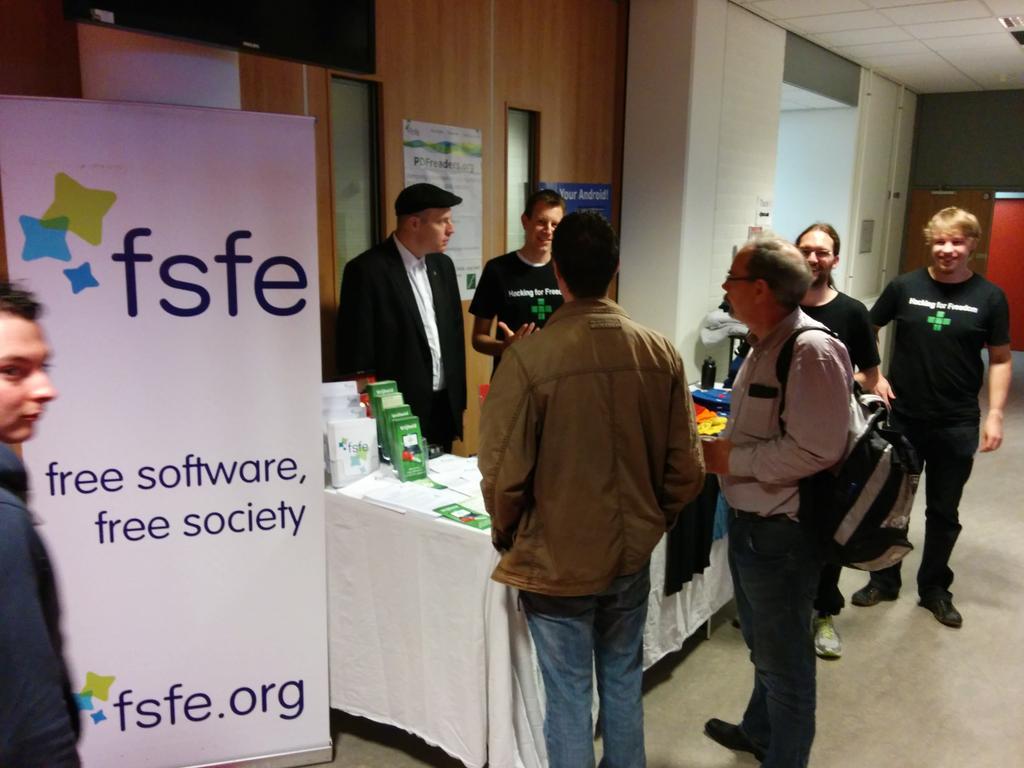 Changes in 2014
Regular Meetings
With several fellows living in or around Nijmegen, we now have regular meetings at Linux Nijmegen.
Dutch Team
We now have a Dutch Team! Consisting of André, Jeroen, Kevin, Maurice, Nico, Roel, Willem, and myself. Contact us at netherlands@fsfeurope.org.
Dutch Translations
André & Nico are doing a wonderful job translating & proofreading. Thank you!
Privacy Café
I became a regular volunteer at Bits of Freedom's Privacy Café (where I also try to tell visitors about the importance of Free Software and hand out FSFE leaflets).
---
Events in 2014
CryptoParty
We started the year with a CryptoParty at Linux Nijmegen on 14 January.
Düsseldorf
Maurice and I visited our neighbouring fellowship group in Düsseldorf several times in 2014.
FOSDEM
We had a Benelux Fellowshipmeeting at FOSDEM 2014.
EPFSUG
I attended EPFSUG's "Trust your friends" event at the European Parliament, which featured the official launch of DebianParl.
Free Software Pact
We asked Dutch candidates in the European elections to sign the Free Software Pact; several did and some of them were elected!
The Importance of Free Software
I wrote about The Importance of Free Software.
Privacy Café Utrecht
I held a lightning talk about the importance of Free Software at a Privacy Café in Utrecht.
Fellowshipmeeting in Utrecht
We had a Dutch Fellowshipmeeting in Utrecht on 24 May at the Dutch Linux Users Group (NLLGG)'s bimonthly meeting.
Germanophone Team Meeting
Maurice and I attended FSFE's Germanophone Team Meeting 2014. I led a workshop on Privacy and Free Software.
T-DOSE
Maurice, Kevin and I spoke at T-DOSE. A lot of Dutch fellows were there, and of course we brought the FSFE booth.
OpenRheinRuhr
André, Maurice, Willem and I visited our neighbours at OpenRheinRuhr. I even sold a few T-shirts at the FSFE booth.
Fundraising
We've started contacting Dutch companies and organisations to raise funds for FSFE's work in 2015.
31C3
Maurice and I attended the 31st Chaos Communication Congress and also visited FSFE's assembly.
---
2015
Privacy Café Nijmegen
I organised the first Privacy Café in Nijmegen.
Fellowship Election
Nicolas Dietrich, Max Mehl and I are candidates in the Fellowship Election 2015.
FOSDEM
See you at FOSDEM 2015! I'll probably spend a fair amount of time behind or near the FSFE booth. There will also be another Benelux Fellowshipmeeting.
… and more
We're ambitious to do even more in 2015 (now that we have a bigger Dutch Team) and we're still looking for ideas (and we can use your help).
If you have ideas or suggestions for our work in 2015, want to ask a question, or if you just want to say hi, feel free to contact us at netherlands@fsfeurope.org or via the (public) Benelux mailing list (which also features discussions and announcements).
---
That's it for now. I'm excited to do even more in 2015. Thanks everyone!
- Felix